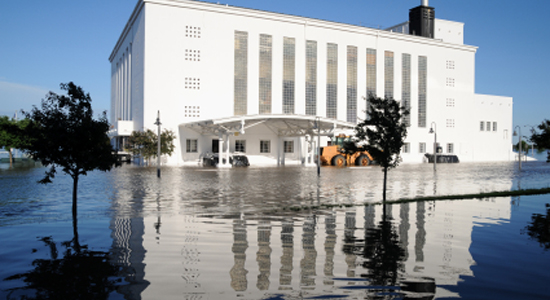 San Diego commercial water damage poses a great threat. The fact that most commercial buildings are left unsupervised over night poses a big problem in the case of spontaneous water damage like a burst pipe. The water from the pipe will sit untreated. During that overnight period it will create the conditions perfect for mold growth and water toxins. These molds and toxins are hazardous to human health.
How Can You Help Prevent Water Damage In Your Building? It is very important to be proactive and take preventative steps to save your building from water damage. Below are listed some of the main sources of water leakage and why you should regularly inspect these parts of your building.
Windows and doors – Check for leaks around your windows, storefront systems and doors, especially during the wet months. Small water leakages can lead to big damages if your windows and doors are not properly sealed.
Roof – Improper drainage system and roof sloping is a main entry for moisture intrusion and a major cause of water leakage/damage. You may want to consult with a roofing specialist for an inspection before the wet season to prevent possible water damage and extra expenses.
Foundation and Exterior Walls – Seal any cracks and holes that are exposed in exterior walls, joints, and foundations. These are a natural occurring byproduct of soil settlement and weather changes. By filling these cracks and holes you are preventing moisture from getting in and deteriorating parts of the infrastructure.
Plumbing – Check for leaking plumbing fixtures, dripping pipes (this includes the fire sprinkler system), both interior and exterior clogged drainage, damaged equipment, and defective water draining systems. Clogged drains and leaks pipes and fixtures are an accident waiting to happen. Unfortunately, most times these accidents take place when there is no one there to fix them.
Ventilation and HVAC (Heating and Air Conditioning) systems – Proper ventilation and HVAC systems are necessary to maintaining a safe, moisture-free environment. Routine maintenance and repairs on HVAC systems will help to ensure any malfunction and possible water damage.
What to do in the case of spontaneous water damage? Taking preventative measures to stop water damage in your building is beneficial to your building and your pocket.
Sometimes water damage is unavoidable and unpredictable, like a pipe bursting.
In a scenario like this it is best to contact us. Not only do we have the proper equipment to treat the water damage but we have a team of trained specialists to ensure that the water damage is properly treated and eradicated.